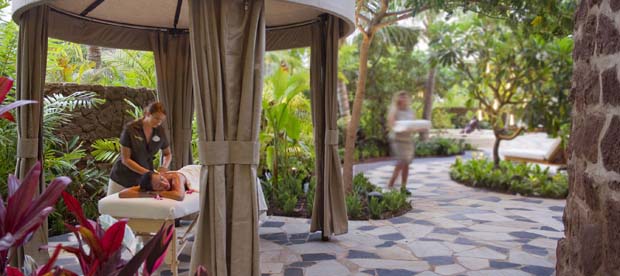 Aulani Updates Fall 2012 through Mid-2013
Since the opening of Aulani, A Disney Resort & Spa in August 2011, Guests have enjoyed outstanding amenities and accommodations at this oceanfront Resort. And today, we continue to look for ways to enhance your vacation experience.
With this in mind, if you visit between September and mid-2013, you may notice some of our work in progress as the Resort is expanded. Rest assured, you can still anticipate a fun-filled vacation at Aulani during this period.
Waikolohe Valley Pool Area
Waikolohe Valley will soon delight Guests with more water features and dining options, including:
A themed family pool featuring an infinity edge, a misty grotto with beautiful sunset views and an after-dark experience with glittering lights.
A kids' splash zone that's designed to resemble a tidal pool, with images of tidal pool creatures on the pool floor, rainbow water jets and hidden menehune-?the legendary "little people" of the islands
Additional deck space, chairs, chaises and cabanas surrounding the new water features.
A poolside dining venue serving breakfast, lunch and dinner?-and featuring an outdoor patio with beautiful ocean view
During the pool area expansion, much of Waikolohe Valley will remain open-including Waikolohe Pool, the lazy river, slides, whirlpool spas, Rainbow Reef and Menehune Bridge. However, Makai Preserve will close permanently this fall; Wailana Pool (the quiet pool) and Wailana Bar will close for an extended period.